Rose, the Irish setter and Kate, the English Springer Spaniel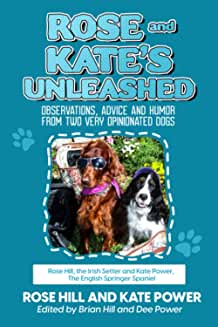 Rose and Kate Unleashed: Observations, Humor and Advice from Two Very Opinionated Dogs Rose the Irish Setter and Kate the English Springer Spaniel, best friends for more than a decade, discovered several years ago that they had an amazing talent: they can blog. Since then, they have been writing down their observations, experiences and fun times and now they are ready to share them with you in their brand new Ebook, Rose and Kate Unleashed" Edited by Brian Hill and Dee Power.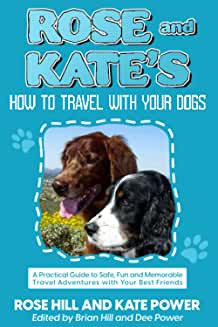 Rose the Irish Setter and Kate the Springer Spaniel have been traveling together for more than 10 years. They've gone everywhere…stunning beaches, breathtaking mountains, big blue lakes and rushing rivers, majestic National Parks, fine hotels and resorts, cheap hotels, camping trips to the wilderness, restaurants with outdoor patios in big cities and hikes in the rugged desert.
In their new book, How to Travel with Your Dogs, they share their exciting experiences and provide practical advice on making travel adventures safe, fun and memorable for both dogs and their two-legged companions. In their unique, humorous style. Edited by Brian Hill and Dee Power
Coming Soon
Rose and Kate's Healthy Homemade Dog Food Lots of recipes for food, treats, and more. Taste tested by Rose and Kate.
Amazon Affiliate Policy
This site is a participant in the Amazon Services LLC Associates Program, an affiliate advertising program designed to provide a means for sites to earn advertising fees by advertising and linking to Amazon.com.
Disclosure
If you buy something from this site we may get paid a commission. However, you will not pay anything additioal for the service or product you purchased. We also on occasion receive free samples in exchange for a review. Those reviews are objective and not influenced by the fact we may have received free merchandise.
Privacy Policy
We do not provide any information to third-party companies directly.
Copyright 2023 Brian Hill and Dee Power All Rights Reserved